Rockhound has been involved in a wide range of projects for both public and private sector clients involving metals, industrial minerals and in more specialist areas. Projects have been mainly in China.
Gold – China, Indonesia, Madagascar, Kyrgyzstan, Mongolia.
Silver – China, Mongolia, Mexico
Copper – China, Afghanistan
Iron sands – Philippines
Magnesium – China
Coal – Indonesia, Mongolia
Cement – China, Philippines
Dimension stone quarry – Malaysia, China
Kaolin – China
Graphite – Indonesia
Iron Sands – Philippines
Construction Materials – Hong Kong
Nano-nickel & Nano-silver – Indonesia, Mexico
Biocoal – China, Malaysia, Indonesia
Graphene – South Korea
Expert Witness – Hong Kong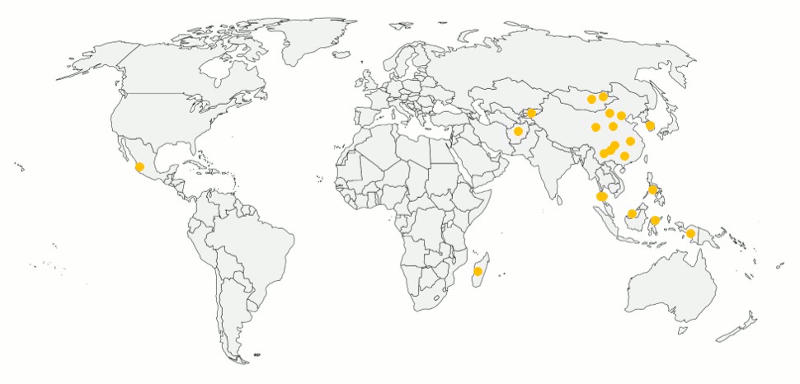 Click below to find out more about selected projects and the Rockhound scope of involvement
Private Indonesian Company

Gold Deposit — Independent Review of early stage and advance stage projects. Visited project sites, took samples and reviewed all available information. Client was an investor and he wanted to know if he should commit any more funds to the projects.

Private HK Based Company

Copper Project, China — Technical Review of existing small scale mining operation and its potential to grow into a world class asset. Client wanted to acquire asset, develop it further and define resources in accordance with the JORC Code. Then form a working partnership with a mining company to increase production levels, throughput and efficiency at the processing facility. An important issue was to work co-operatively with local indigenous people.

HKSE GEM Board Company

Small Gold Mine, China — Independent Technical Review on future potential of a small vein gold operation. Reviewed issues related to environmental degradation from end tipped waste blocking stream courses, unstable slopes to pollution of ground water from leaching process. Review was used as support in seeking funds for expanding business. Company wanted to broaden business scope by moving into 'Resources' sector in China.

Explorer, Madagascar

Gold — Part of a team carrying out exploration in areas of known gold occurrence including field reconnaissance, trenching, drilling, sampling and analysis of assays sent to laboratories for testing. Involved in fund raising, social and environmental reviews and developing strategy for listing. Areas also included those with bauxite potential.

HKSE GEM Board Company

Potential Silver Mine, Mongolia — Desk study on the investment potential of a proposed mine. Reviewed pre-feasibility study and carried out country risk study. Client wanted an independent assessment of project extending to mine operation in order to establish level of their investment needed to achieve this. Client also wanted to broaden business scope by moving into Resources sector.

HKSE GEM Board Company

Gold Deposit, Mongolia — Desk study on the resource potential of deposit. Reviewed existing feasibility study and drillhole investigation by others. Client required an assessment on the time needed to start up mining, and risks involved, in order to establish whether investment being asked was reasonable. Client wanted to broaden business scope of his Company by moving into Resources sector in China.
HKSE Main Board Company

Dimension Stone/Clay Products, China — Independent Technical Review on quarry operation and resource estimation for operator producing dimension stone and quality clay products used in ceramics. Report was prepared with resources estimated in accordance with JORC Code and this was used to justify switch from GEM to Main Board listing. Assisted client in dealings with the Hong Kong Stock Exchange (HKSE).

HKSE Main Board Company

Coal, Indonesia — Desk study and technical review on a greenfield site. Reviewed existing information, visited site. Client wanted to broaden business scope by moving into the Resources sector by determining whether the opportunity had commercial potential.

HKSE Main Board Company

Mineral Sands, Asia Pacific — Seconded to a mineral resources company as technical support whilst the company considered the acquisition of substantial projects. Role required due diligence of assets, liaison with advisors, listing authorities and others responsible for ensuring the success of an acquisition.

Private HK Based Company

Cement, Philippines — Technical Review of greenfield site to establish potential as a source of limestone for cement. Inputs were in resource evaluation, logistics including preliminary layout of site and haulage issues related to transport to markets. Advice on trends in cement production. Company wanted to expand product base.

HKSE Main Board Company

Coal, Mongolia — Evaluation of an acquisition which had failed to deliver the product as expected. Company was suffering losses and requested a forensic study as a way to plan way forward.

Private HK Based Company

Iron Sands, Philippines — Assisting in the due diligence process being carried out to establish resource potential, mine plan and fund raising for a dredging operation extracting magnetite from the sea. Company was negotiating supply contracts for iron ore to China market and in the process of merging with a listed company in the US.

Construction Materials Supplier, Hong Kong

Asphalt, Central Pacific — Advice on how to improve asphalt quality for an airport runway in the Marshall Islands - reviewed plant layout, performance, settings and raw materials which comprised a blend of coral and imported rock.

Private Indonesian Company

Graphite, Kalimantan — Designed ground investigation of deposit and arranged specialist testing to estimate size and quality of resource. Client wanted the site to be the dedicated supplier of graphite to a downstream business in the USA making batteries and other hi-tech components.

HKSE Main Board Company

Cement, China — Provided advice to a major construction material supplier to a 2nd cement line on quality and quantity of remaining resources in its quarry. Cement from operation is the leading brand in Southern China.

SGX Listed Companies (2Nos)

Dimension Stone, Malaysia — Reported resources (one in granite and the other in marble) in accordance with the JORC Code and then prepared Qualified Persons Report, one related to a new IPO and the other as a VSA. , Was involved with design at the exploration stage and also prepared the Preliminary Feasibility Study.

Private HK Based Company

Kaolin, China — Investigated resource and prepared an initial report on the feasibility of the project looking at the processing of the raw material, the markets available and the end uses based on the quality of the beneficiated kaolin. Client was looking to list project.
Construction Materials Supplier, Hong Kong

Expert Witness — Provision of advice in a multi million dollar claim related to product quality and quarrying process with respect to the use of granite in concrete and asphalt.

Investment Bank, Singapore

Due Diligence on Mineral Assets, China — Due diligence on assets of an HKSE Main Board Company. Bank was raising funds to support growth of business of ListCo and technical evaluation was required to establish the status of the existing operations and the future potential.

Private Company, Hong Kong

Bid for Mining Licenses, Central Asia — Assisting with international bidding process on five sites where large copper deposits were thought to be present. Visited sites and carried out a technical review and commercial potential based on a range of criteria. Client was ultimately awarded one of the sites being tendered.

Private HK Based Company

Due Dilligence - Magnesium, China — Assisted client in fund raising for his business – prepared power point and technical support in road shows. Visited site and carried out due diligence on whole process from mining of dolomite to production of magnesium metal. Client wanted to raise money to build and introduce a 'state – of the – art' technology he had developed - which substantially reduced processing costs.

Private Company, Hong Kong

Biocoal, Malaysia — Independent Review of industry business for a coal like substance which is converted from biomass. Provided technical support and helped arrange testing.

Private Company, Canada

Nano-Nickel and Nano Silver — Assisting distributor using a new technology to raise funds in a new market. Technology produces Nano powders which can be used in medicines and for other high tech end uses.

Private Company, South Korea

Graphene — Provided independent research report for a company with a new technology which had the capability of producing large quantities of high quality graphene at very competitive prices, neither of which was available amongst other producers. Examined process, spoke with end users, academics and reviewed robustness of business plan.

Clients have included Listed Companies, private organizations, funding institutions and companies working in specialist areas. We have recently acted as 'Competent Person' in two dimension stone projects